Visually stunning designer resumes and resume-building websites are a hot trend in the world of  online applications. But do they work when it comes to landing interviews? In this post, we'll break down the good, the bad, and the ugly of designer resume services – when to use them, when to avoid them, and how to strike the perfect balance when it comes to creating resumes that attract hiring manager interest.
What are Designer Resume Services and How Much Do They Cost?
Designer resume services are services or websites that create a nicely-designed resume – one that is visually attractive, with a modern look and feel. Designer resume services range anywhere from free, to a low monthly fee of $15 per month, all the way up to $99-$1,000 per resume from boutique firms and individual designers. Here are examples of standard designer resumes: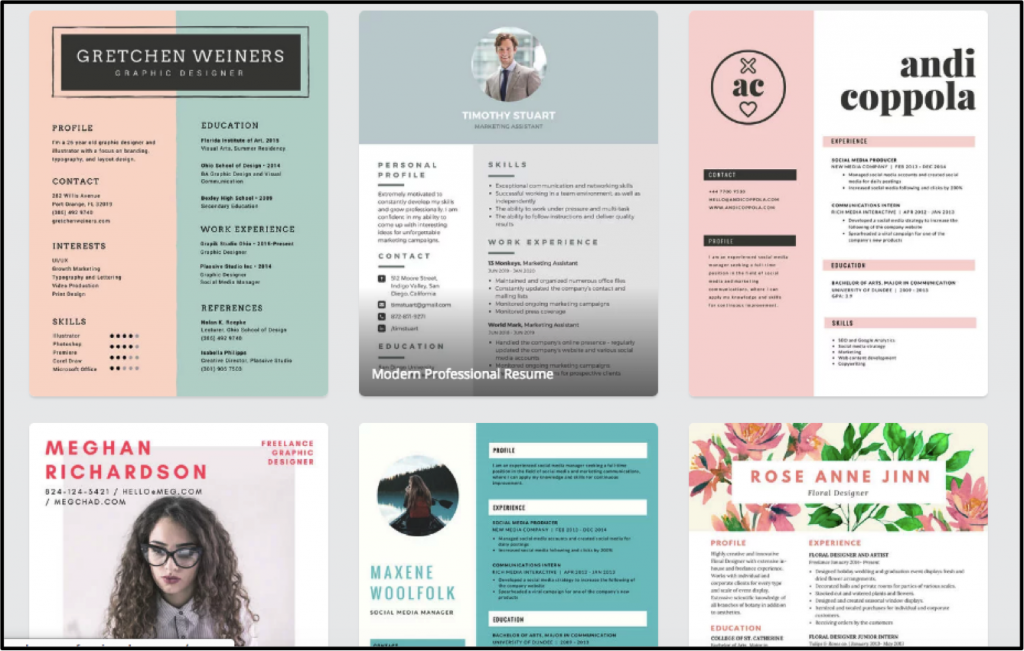 Designer Resumes Create a Modern Brand and Stand Out When Compared to Traditional Resumes
I'm a big fan of design (if you couldn't tell by my website). I absolutely love when I come across a well-designed resume worthy of the most coveted user experience jobs at the Googles or Facebooks of the world. Visually, there is nothing more stunning than a well-crafted resume with clean lines and the utmost simplicity. Even better if it includes sleek fonts and the perfect blend of colors and imagery. I love this stuff as do most job searchers looking to stand out and create an ultra clean and modern brand. However a designer resume is not something I would recommend using all the time.
Why You Must Avoid Using Designer Resumes for Online Job Applications
While highly-designed resume templates are all the rage and may be essential for some design industry jobs, they are a terrible mistake for 99.99% of online job applications. Designer resumes may look good, but they don't work. And job searchers with designer resumes are always confused when they recruit my help for a resume review until they learn why their resume isn't working. They think that because it looks good, it must work. This is simply not the case and hence, the reason I do not offer them through my resume writing services. Why wouldn't such a beautiful resume have hiring managers reaching out non-stop? There are a few good reasons you want to avoid design-heavy resume templates when applying for jobs online.
1. ATS Systems Can't Process Heavy Design Components and Will Send Your Resume Into the Trash
Applicant Tracking Systems or ATS's are the biggest enemies of designer resumes. If you don't know what ATS systems are by now, YOU NEED TO! They are those pesky resume-reading robots used by a large majority of companies (company websites and third-party application sites) to scan resumes, sending the majority of job applicants to the infamous resume black hole. If you've ever received an automated rejection email, or better yet, no email at all, it is likely you have been dinged by an ATS and are floating in resume deep space nine.
Expert Tip
It's critical then to always optimize your resume for ATS systems. A designer resume is a risky play when aiming for an ATS optimized resume. For example, ATS systems are designed to scan resume sections and parse keywords. In the parsing process, if the ATS is hitting heavy design pieces that are central to designer resumes – graphics, tables, charts etc. – there's a good chance the resume will produce errors, sending your nicely designed resume to the trash.
2. A Human Being Won't Ever See Your Designer Resume, So Why Risk it?
Approximately 70% of resumes never reach human eyes, making ATS's a real challenge for all candidates applying through online portals. While ATS's are helpful in enabling HR departments to quickly sort through hundreds of resumes and qualify or disqualify candidates, it doesn't mean the technology is able to perfectly handle any kind of document that comes through. It further means that a human being will not be seeing your resume, therefore making the beautiful design components irrelevant.
Expert Tip
It is most important when optimizing a resume for ATS to include the appropriate amount of information and most relevant keywords to pass through the ATS's algorithm.
3. The Robust Keyword Strategy Necessary to Pass Through ATS Will be Lacking in Design-Heavy Resumes
As I mentioned, ATS systems are designed to scan and parse keywords. This is why the current trend in resume writing incorporates a separate Skills section, which consists of keywords and keyword phrases. Click here to see a before and after resume sample of a resume that incorporates the Skills section. In addition to aiding in ATS scans, the Skills section further supports the human "scanning mentality" of today's reader – and especially that of the 6-second hiring manager or recruiter resume scan.
In addition to the keyword-optimized Skills section, the entire resume can be populated with keyword-rich industry and role-related terms. This is why a professionally written resume is more text-heavy than not. A professionally written resume aims to take advantage of keyword optimization strategy, and therefore ATS optimization strategy in the process. With a modern, design-heavy resume, it is more likely that the strategic keyword copy will be missing. This is a huge mistake, because the resume will miss important opportunities to present the right keyword mix, and likely send the resume to the trash.
Expert Tip
Be deliberate in selecting the most accurate keywords to describe you, what you do and how you do it. Click here for a list of 50 resume keywords for high-impact resume branding.
Designer Resume Services Offer Pre-Written Phrases & Templates that Won't Enhance Your Brand
One of the supposed benefits of designer resume DIY websites is access to pre-written phrases and templates. Think: enter basic info about yourself, and click a button to generate your top resume summary. Oftentimes these pre-written statements and resumes parts do not appeal to hiring managers because hiring managers can quickly identify the generic statements. While it may seem like a good idea to opt for auto-generated resume sections, it will in no way aid your ability to stand out from the other 200+ applicants using similar auto-generated parts. Hiring managers are looking to get to the heart of your brand and learn about YOU. They are not interested in standard resume jargon that will read like every other resume they've scanned. For this reason alone, the perceived benefit of pre-written parts is false and should be avoided.
Expert Tip
Take the time to get to the heart of who you are as a professional and what sets you apart from others with identical experience. Then incorporate these insights into your resume branding. Use a tried and true ATS-optimized resume template.
Not Applying Online? You Still Need to be Cautious of Old School Hiring Mentality Bias
In the event that your designer resume does make it past the ATS, or if you are applying via other channels, it's important to acknowledge that all hiring managers are not created equal. In fact, some hiring managers may be more old-school than you realize, and not ready for an ultra-modern designer resume. Furthermore, it may be too risky for some industries or levels, positioning you as too junior, unprofessional, informal, etc. for the job opening in question. If you are an executive, or an aspiring executive, my advice is to avoid altogether. Instead, opt for a professionally-written resume that will use strategic branding and keywords to highlight your best results and career highlights. Investing in a fully optimized resume delivers tremendous ROI for a professional aspiring to climb the corporate ladder, and help you avoid these 10 fatal resume mistakes. Without one, you will be missing opportunities to fully express who you are via a robust brand. 
Expert Tip
As an Executive Recruiter turned Career Coach, I advise my clients to get inside the hiring manager's head in order to create high-impact branding materials. Therefore, any and every resume you send should reflect, as closely as possible, the needs of the hiring manager. Spend time getting inside the hiring manager's head by analyzing job descriptions, Linkedin profiles, etc. Take time to make sure you're a fit for the job before applying. 
Before working with Noelle I really had no idea what aspects of my resume and LinkedIn were keeping me from getting noticed. She helped me to remove the clutter and replace the fluff with a true story of my success. – Alex, Creative Director, San Francisco
A Recruiter Might Hate the Design Choice You Love
Another important perspective to consider when discerning whether or not to use a designer resume is that of the subjective nature of design. One of the drawbacks of hyper-designed resumes is that what looks good to the designer – and the job searcher – might not look good to a recruiter. If a recruiter thinks your resume is ugly, and there is a pile of resumes 100-deep below yours, you risk the recruiter moving on to the next resume.
Expert Tip
Time is money for recruiters. Recruiters scan resumes quickly looking for basic career path-related info, but also for glimmers of substance. Submitting a keyword-rich and text-heavy, traditional resume will ensure you can give recruiters something to sink their teeth into. Submitting a resume that is too light on information, may prompt them to move onto other candidates that don't require further digging to find the information recruiters need to make quick screening decisions.
When to Use Your Designer Resume – The Best Industries and Company Types
A designer resume isn't great for online applications, but that doesn't mean you shouldn't use one at all. For my clients in the creative or U/X fields, I absolutely recommend a resume that showcases your design style or U/X expertise in action.
Designer resumes can also be used by job searchers in non-creative roles and can be great for branding aimed at startups, tech, and other companies with more cutting-edge company cultures and brands. However, I only advise this if you've done your homework and are confident the company and/or hiring manager are ready for this. Otherwise, you may miss an opportunity to shine with solid and relevant messaging.
Expert Tip
Be sure to analyze each company culture before opting for a designer resume. Never resort to "one size fits all" job applications!
The Best Application Channels for Submitting Your Designer Resume
While a designer resume is great for creatives, company cultures, etc. it is still important to avoid using designer resumes when applying via online channels. An ATS can't make a distinction between creative vs non-creative or cultural fits. Therefore I would only recommend using a designer resume for in-person meetings or email application submissions. This way, you can be absolutely sure that your design will reach human eyes, and not create a fatal ATS error, that lands you in the trash.
The Worst Application Channels for Submitting Your Designer Resume – Never Use Here
Always avoid using your designer resume when you are applying to jobs online because this is the point at which you will encounter an ATS. As a hard rule: use the 2nd version of your resume – one that is keyword optimized (text heavy) and more traditional in terms of formatting.
Expert Tip
Including a web address to your online portfolio, on the 2nd version of your resume is a great way to direct the hiring entity to your more creative side and ensure that you won't end up on the trash. Just make sure the web link isn't embedded or live. Live web links can tend to trigger ATS errors.
The Bottom Line: Always Have a Professional Keyword-Optimized Resume Ready
Technology has made it easier than ever to access beautifully designed resumes. However, it's important to discern each application situation individually, when deciding whether or not to use your designer resume. Otherwise, you may be committing fatal application errors unknowingly. The bottom line with designer resumes is to always have a 2nd resume that is fully keyword optimized and text-heavy, for online application submission. Having both resumes will make it easy to apply once you determine the appropriate job application channel.