Updated: November 23, 2020
LinkedIn is a great networking tool for job searchers hoping to quickly find and land a job. However, you must have an optimized LinkedIn profile to produce the most optimum networking results. LinkedIn rewards users who reach all-star status by ensuring they appear in more searches. Therefore it is critical to achieve all-star profile status as a bare minimum. In this blog post we will explain how to achieve all-star status for your LinkedIn profile as well as the history of the all-star status ranking, and what it means for LinkedIn users today.
What is LinkedIn "all-star" status?
LinkedIn uses the term "all-star" to refer to a completed LinkedIn profile. Because LinkedIn's value is derived from having real-time, accurate data for each of its members, LinkedIn must incentivize its users to cooperate in providing this data. This data is shared via the information you provide in your LinkedIn profile parts. Therefore, all-star status is a term LinkedIn uses for those who complete their profile according to LinkedIn's standards. LinkedIn itself, refers to all-star status as part of the "profile strength meter."
Why is it important to achieve all-star status?
LinkedIn incentivizes you for playing by their rules. If your profile does not achieve all-star status, you are not helping LinkedIn out by providing the bare minimum of data to be a high-quality member. Therefore, LinkedIn will not give you priority in searches. If you do achieve all-star status you will be much more searchable. Many blogs I've read on this topic state that you are 40 times more likely to get contacted through LinkedIn with all-star status, compared to other users with less complete statuses. However, I have yet to find the source for this figure so I can not confirm, nor deny. Whether or not this figure is accurate, one thing is for sure: achieving LinkedIn all-star status is a must! You want to absolutely be searchable – especially by recruiters and hiring managers.
The old LinkedIn all-star status
In the early days of LinkedIn, the platform used a simple icon to illustrate whether or not you were an all-star. It looked like this: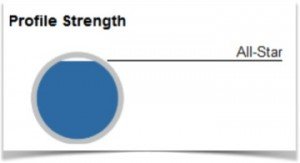 Depending on your level of profile completeness, the amount of blue would change as would your status. For example if you only completed basic information such as your name, 1 job, location and 3 skills, you were categorized as a "Beginner." This term was reserved for profiles that were considered under 50% complete. Other statuses included:
Intermediate (50%)
Advanced (75%)
Expert (90%)
All Star (100%)
I don't know exactly when this visual changed, but I'm glad it did. Many of my workshop attendees would wonder if they were truly a LinkedIn all-star due to the fact that the blue bubble wasn't completely blue. The little gap at the top made people feel that their profile wasn't totally complete. However this was not the case. It was simply an error in choice of graphic on LinkedIn's end. This particular graphic was located at the top right-hand side of the profile-editing page.
The old standards for achieving all-star status
Back in the day (pre-2019) when I would teach job searchers LinkedIn strategy, there was a very clearly defined all-star status requirement. This information used to be available in the LinkedIn Help Center. At that time, there were 7 profile parts required in order to achieve LinkedIn all-star status:
Industry and location
Profile photo
A current position
Two past positions
Education
Three skills minimum
At least 50 connections
However, this seems to have changed along with the new profile. I was unable to find any information on requirements needed for achieving the current LinkedIn all-star status requirement. In fact most blog posts are inconsistent and only contain the old requirements.
What happened to the old standards for achieving LinkedIn all-star status?
If I had to guess when LinkedIn updated their all-star status icon, I would say around 2019. (I could be totally wrong but this was around the time I had to start updating my LinkedIn screenshots for presentations on LinkedIn profile optimization). Now, you must simply follow the LinkedIn prompts to ensure you have achieved their requirements for all-star status.
About the new LinkedIn all-star status, requirements, and profile strength meter
The new LinkedIn all-star status icon is located on the profile editing page, about halfway down between the About section and the Activity feed. If you have a "Featured" section on your profile it will be between Featured and Activity. It has a subtle presence on your private dashboard. This dashboard contains your profile views, article views, and search appearances.
The new LinkedIn all-star graphic and strength meter look like this:


How to achieve LinkedIn all-star status using the new profile strength requirements
Because LinkedIn is under constant development, the rule of thumb to follow is simple: play by LinkedIn's rules. If they require you to add certain profile parts, in order to achieve all-star status, add those profile parts. The bare minimum profile parts to aim for in order to have a strong, searchable profile include:
Add a profile photo
Edit your headline
Add an About section
Complete the Experience section including a current role
Add 5 skills minimum
At least 50 connections
I will address each profile requirement in detail.
"I'm already through my first interview with a company that found me 2 days after I updated my new LinkedIn profile." – Tom, LinkedIn Makeover Client
How to maximize individual profile parts
Please note that while these profile parts refer to those needed for all-star status, they are by no mean the only profile parts you can consider. It doesn't hurt to have a more robust profile by adding more parts. However it will hurt your searchability if you add less than these suggested parts. Here is the list of mandatory profile parts:
1. Add a professional and approachable profile photo
LinkedIn profile photos are said to increase profile views by 14%. Therefore, omitting a profile photo is a big mistake. However don't just upload any old photo. You need to use a solid LinkedIn profile photo strategy. The LinkedIn photo can make the difference between a recruiter clicking your profile or passing onto the next. It can also tip the scales in your favor when you reach out to strategic cold networking leads. So this is definitely one profile part you will want to get right.
2. Edit your LinkedIn Headline
If your profile photo is the most important profile part, the LinkedIn headline is the second most important profile part. Therefore you should take the time to create a headline that concisely summarizes your brand AND your job target. Similar to the profile photo, you will need to have a branding strategy for your LinkedIn headline. Without this, your profile will not receive as many visitors as if the headline is on point. If you do not edit your LinkedIn headline, LinkedIn will do it for you by pulling info from  your experience section. There are several reasons why this simply won't be effective so take the time to write this yourself or hire the help of a professional LinkedIn profile writer.
3. Add an About section
Part of being more searchable on LinkedIn has to do with having a lot of the right keywords. Without strong keywords, you will simply not be found. The About section gives you roughly 2,000 characters in which to tell your career story, goals, aspirations, skills, results, etc. More is more when it comes to keyword strategy so plan on maxing out the amount of characters in this section for best results.
4. Complete the Experience section including a current role
This should be pretty self-explanatory since LinkedIn is a career networking platform. Recruiters and hiring managers are your target audience. These folks will be interested in knowing whether or not you are an experiential fit for their job openings. Therefore it is essential to detail your experience in the space provided by LinkedIn.
5. Add 5 Skills minimum
Skills can be added at the bottom of your profile in the Skills & Endorsements section. Skills are also super important in making sure you are found in searches. LinkedIn recommends a minimum of 5 skills so be sure and meet that minimum. For optimum results and searchability, aim for adding the maximum 50 skills. I recently read that endorsements DO contribute to the way your profile appears in search results (SEO).  So even though they are pesky at times, allow yourself to be endorsed and occasionally endorse others.  Be aware that the skills you have at the top of your list, will be pushed out for endorsements from your contacts more often than those at the bottom. Therefore, you'll want to arrange your skills strategically from top to bottom.
6. At least 50 connections
Even if you are a private person or feel unsure about accepting people you don't know, it's important to just connect as much as possible.  Here's why.  It affects how you appear in search results as well as the results you receive.  Bottom line: The more the merrier. Make time each week to add both strategic and non-strategic contacts to your network. This will pay off big time when you are hoping to appear in hiring manager searches.
Is all-star status the same as profile optimization or SEO strategy?
It's important to know that there is a difference between all-star status and having an SEO optimized profile. It's not enough to just have the all-star status as you may be missing out on other valuable nuances that further optimize your profile (ie. SEO). Check out how to boost your LinkedIn profile in search results to really take your profile to the next level.  You'll also need to know these 9 SEO hacks for your Linkedin profile.