Leading Linkedin® workshops is one of the best parts of my job because the platform is constantly being developed which requires me to really stay on top of the latest trends, techniques and features.  I also like helping people understand why it's so important to be on Linkedin.
One question that seems to come up an awful lot is that of the profile status bar and in particular the "All-Star" status.
If you don't know what I'm referring to, go to your profile page on Linkedin® and eyeball the right sidebar.  If you're profile is complete you will see an icon that looks like this, indicates you are a baller (otherwise known as "All-Star Status"):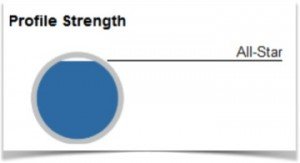 Now if you're like most people you're saying: "Noelle, it says "all-star" but the little bubble is not filled in all the way so what on earth am I missing?"  I'll let you in on a little secret:
You're not missing anything.
If Linkedin® tells you you're an All-Star, you're an All-Star.  For some reason they've decided to use an icon that isn't filled in all the way leading most users to feel a bit incomplete.  But trust me.  I've done the research and I think it's safe to say that the image they use is just a static pic, not an indication of your profile inadequacy.  (Feel free to let out a sigh of relief).  If you don't know what I'm talking about and are wondering, "how do I become a Linkedin® All-Star????"  Fear not.
There are 7 profile pieces you need to achieve Linkedin® All-Star status:
1. Industry and location
These should have been filled out the first time you signed up for Linkedin® due to the required information they request.  If your industry is not listed, try to select something close.
2. A current position
This is another no-brainer but it can affect someone who is unemployed or in between jobs.  If you have left a position and are in Linkedin® limbo, still add a current position or description of what you're looking for so that you can ensure this box is always ticked.  Try "freelance" or "consulting" as your current position if you are really at a loss for what to put here.
3. 2 past positions
Again, this is pretty straight forward.  If you are early enough in your career where you have yet to work 2 positions, substitute your volunteer or part-time work (similar to the "current position" advice above).
4. Education
Self explanatory, I hope.
5. 3 Skills Minimum
Skills can be added at the bottom of your profile in the Skills & Endorsements section. Skills are also super important in making sure you are found in searches so be sure to add more than 3.  I recently read that endorsements DO contribute to the way your profile appears in search results (SEO).  So even though they are pesky at times, allow yourself to be endorsed and occasionally endorse others.  Be aware that the skills you have at the top of your list, will be pushed out for endorsements from your contacts more often than those at the bottom. Therefore, you'll want to arrange your skills strategically from top to bottom.
6. At least 50 connections
Even if you are a private person or feel unsure about accepting people you don't know, it's important to just connect as much as possible.  Here's why.  It affects how you appear in search results as well as the results you receive.  Bottom line: The more the merrier.
7. A professional profile picture
In addition to this boosting your all-star status, it also has been known to increase profile views by 14%.  Don't be camera shy if you want Linkedin® to work for you.
Just a word of warning:
It's important to know that there is a difference between "All-Star" status and having an optimized profile. It's not enough to just have the All-Star status as you may be missing out on other valuable nuances that further optimize your profile (ie. SEO).  Check out how to boost your Linkedin profile in search results to really take your profile to the next level.  You'll also need to know these 9 SEO hacks for your Linkedin profile.
I hope you've found this helpful and also realize how incredibly easy it is to become one of the Linkedin® elite.  If you've yet to reach this status, take a moment and make sure your profile has these 7 components.  It's so important in making sure you are relevant on this platform.
If you're not feeling confident about your Linkedin® profile, I'm here to help.  I write profiles in my sleep so just ask and we'll make it happen!  Also, don't forget to follow NG Career Strategy on Linkedin!