Creating a custom LinkedIn URL (also known as a "vanity URL") is an important part of your online professional branding strategy as it secures your identity in the online space and positions you as "in the know" when included with your resume contact info. It's an important part of making sure your Linkedin profile is optimized. Other Linkedin profile optimization  strategies can be found here. A custom URL is also beneficial in boosting your SEO so that you are being found in online searches. Here's everything you need to know about claiming your vanity URL on Linkedin including step-by-step instructions.
What a Non-Custom Linkedin URL Looks Like
Linkedin attaches a unique URL  or web address, to every profile upon sign-up. It auto-generates the URL at random without customizing and will look something like this (note purple text):
www.linkedin.com/in/randomlettersandnumbers
If you created a profile and have never taken the time to customize your URL, chances are you have a non-custom URL attached to your profile. Your goal is to claim your name (or some variation of) so that the end URL looks something like this:
www.linkedin.com/in/yournamehere
Follow these instructions to customize your Linked URL.
Step 1: Go to Your Profile Page
Sign into your LinkedIn account and select the "Profile" option from the main dashboard.
FYI Another way to access your profile is through the "Account & Settings" option: While on your home page, scroll over your profile picture in the top right corner (Account & Settings). This is where you manage your account.
Select the first option titled with your name (to redirect to your profile page).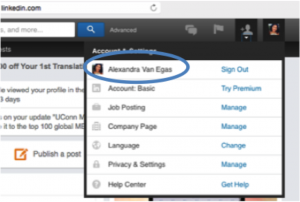 Step 2: Locate Your Unique URL
Scroll down to where your profile picture appears
Just below the "View Profile As" button, you will see your default URL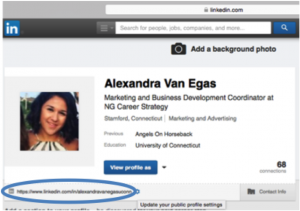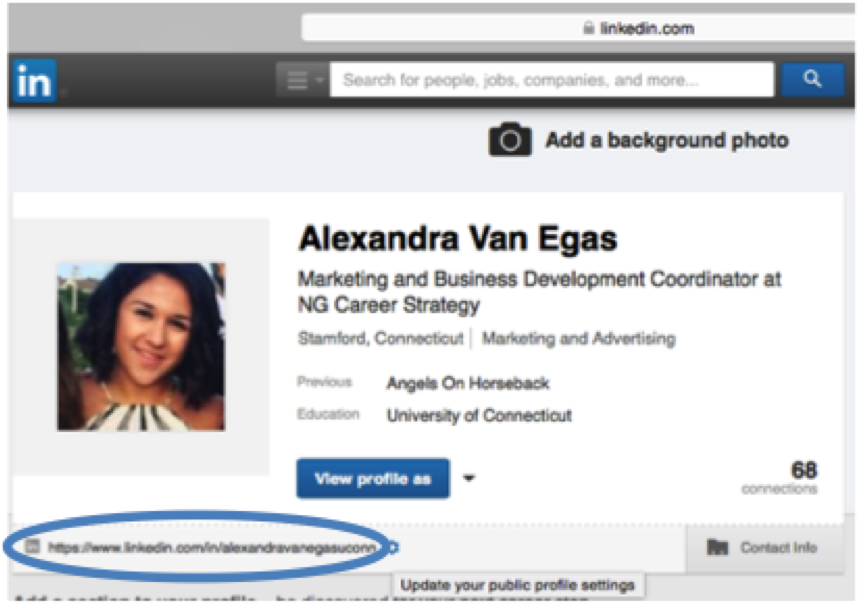 Click the "Settings" icon which will appear next to the URL when your mouse scrolls over it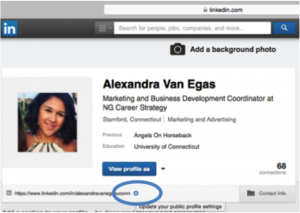 Step 3: Remove the Default URL
Your name and title will appear first and to the right of this box will be the heading "Your Public Profile URL"
In this box, below your current defaulted URL is a "Pencil" icon
Click the "Pencil" icon and part of the link will become highlighted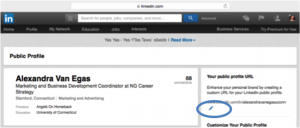 Step 4: Choosing Your Vanity URL
Start by typing in your preferred vanity title to go at the end of www.linkedin.com/in/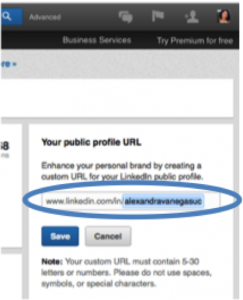 You'll want your vanity URL to be as consistent to your name/professional brand as possible therefore using your first and last name is the best option. If someone has always claimed your first and last name for their URL, try adding your title or industry to your name. Example: noellegrosscareercoach.
This may be a period of trial and error as the title selections are based on a first come first serve basis. Other options to consider if your name is not available:

Your URL may contain numbers and letters, which are case insensitive
Your URL may not contain symbols, spaces or special characters
Your Vanity name is a maximum of 29 characters

You are permitted to change your vanity URL at most 5 times every 180 days

Step 5: Save Your New Custom URL

Once you've followed these steps be sure to hit "Save" so that your vanity URL is in place. Go back to your profile using the "Profile" option on the top left side of your dashboard and check to make sure the new URL is showing up.

Bonus Branding Tip: Add New URL to Your Resume

Before exiting out, be sure to copy/paste your new URL to your contact info in your resume. You won't have to type "Linkedin.com." Since hiring managers are Linkedin savvy, including a simple: /in/noellegrosscareercoach will be just fine!